What is GPAW?
Guinea pigs make great family pets and with the right care and attention, you can have a long and happy life together. However, there is a common misconception that these small animals are easy to look after. Although small in size, their needs are not, and guinea pigs require just as much care and attention as you would give to your cat or dog.
That's why we are launching the very first Guinea Pig Awareness Week, or GPAW, a week dedicated to guinea pigs. We'll explore each of their welfare needs, providing lots of great advice, handy tips and tricks and a safe space for guinea pig owners, past, present and future, to learn more about these great pets.
All of our GPAW activities will be taking place over on our GPAW Facebook page and Instagram page. Like and follow today to stay up to date with all the action!
GPAW is endorsed by the British Veterinary Association and British Small Animal Veterinary Association and our charity partners will be helping us along the way. For this jam-packed week of activities, we have partnered with four animal welfare charities: Blue Cross, PDSA, RSPCA, and Wood Green
What to expect throughout GPAW
Have you ever wanted to know what guinea pigs eat, or what guinea pig noises mean? Want to learn more about why guinea pigs eat their own poo or what the ideal housing is for your guinea pigs?
Each day of GPAW we will be covering the five welfare needs of guinea pigs. This includes diet, behaviour, companionship, environment and health.
Can't wait until 22nd March? In the run up to GPAW, you can still find lots of great content over on our Facebook and Instagram pages.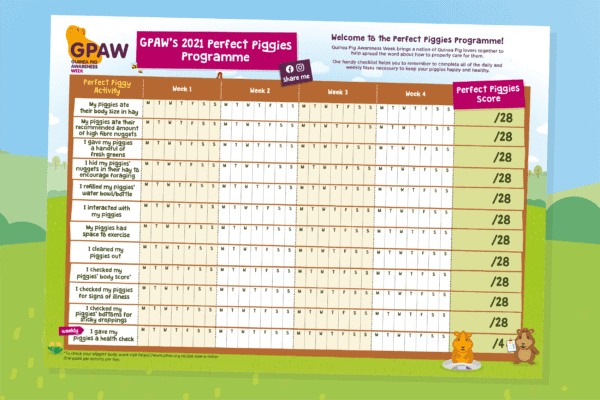 The Perfect Piggies Programme
Take part in our Perfect Piggies programme this GPAW. We've compiled a handy checklist to help you remember to complete all of the daily and weekly tasks that need to be done to help keep your perfect piggies happy and healthy.
In your downloadable GPAW pack, you'll find your programme sheet – just print it off and start ticking off each activity you complete with your guinea pigs. At the end of the month, total up your score and let us know what you get!
The 5 Welfare Needs Of Guinea Pigs
The aim of GPAW is to give current and future guinea pig owners the knowledge and information to be able to meet the five welfare needs of their guinea pigs. By meeting these needs, you can help keep your piggies happy and healthy. Click on the icons below to discover more about each theme.
Download your GPAW pack
Get involved with Guinea Pig Awareness Week 2021 and download your GPAW pack today.
I am a Vet
Download your Guinea Pig Awareness Week vet pack, perfect for a piggy friendly practice.
I am a Rescue Centre
Help us spread the word about the best guinea pig care by downloading your GPAW pack.
I am a Retailer
Spread the word to your customers with our GPAW pack made specially for retailers.
I am an Owner
Get involved with our GPAW packs, ideal for owners of great guinea pigs!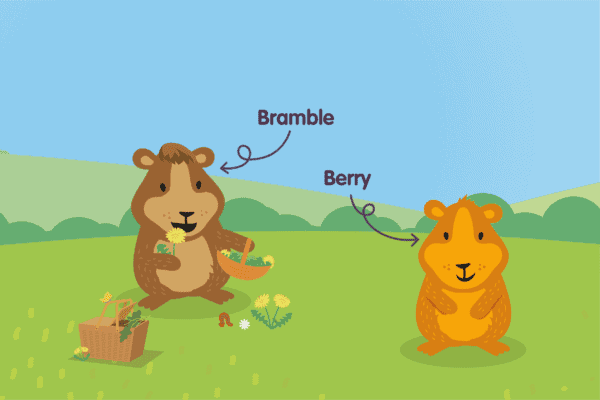 Meet Berry and Bramble
Hi there, we're Berry and Bramble, the Excel guinea pigs! We're going to be popping up throughout GPAW, helping to give you an insight into the welfare needs of piggies just like us.
To stay up to date with all things GPAW, we'd recommend downloading your packs and liking our Facebook page.
About Burgess Excel
Burgess Pet Care is a British family company, based in the heart of North Yorkshire. Our strong family values and traditions are core to the Burgess story. Starting as flour millers in the 17th century, our business has evolved, moving into animal feeds in the 1960s. Since then we have been dedicated to improving the health and welfare of animals through research and education.
In 1998 we launched Burgess Excel, our small animal brand. Fast forward two years, and with the millennia also came Burgess Excel Guinea Pig Nuggets. Since then Burgess Excel has grown, providing high quality extruded nuggets, feeding hay and treats for small animals across the world.
Today our head office remains in North Yorkshire and our history of innovation continues. Our in-house vet, Dr Suzanne Moyes, uses her nutritional expertise to help enable us to develop the highest quality food for your small animals. Discover more about the Burgess story over on our website.